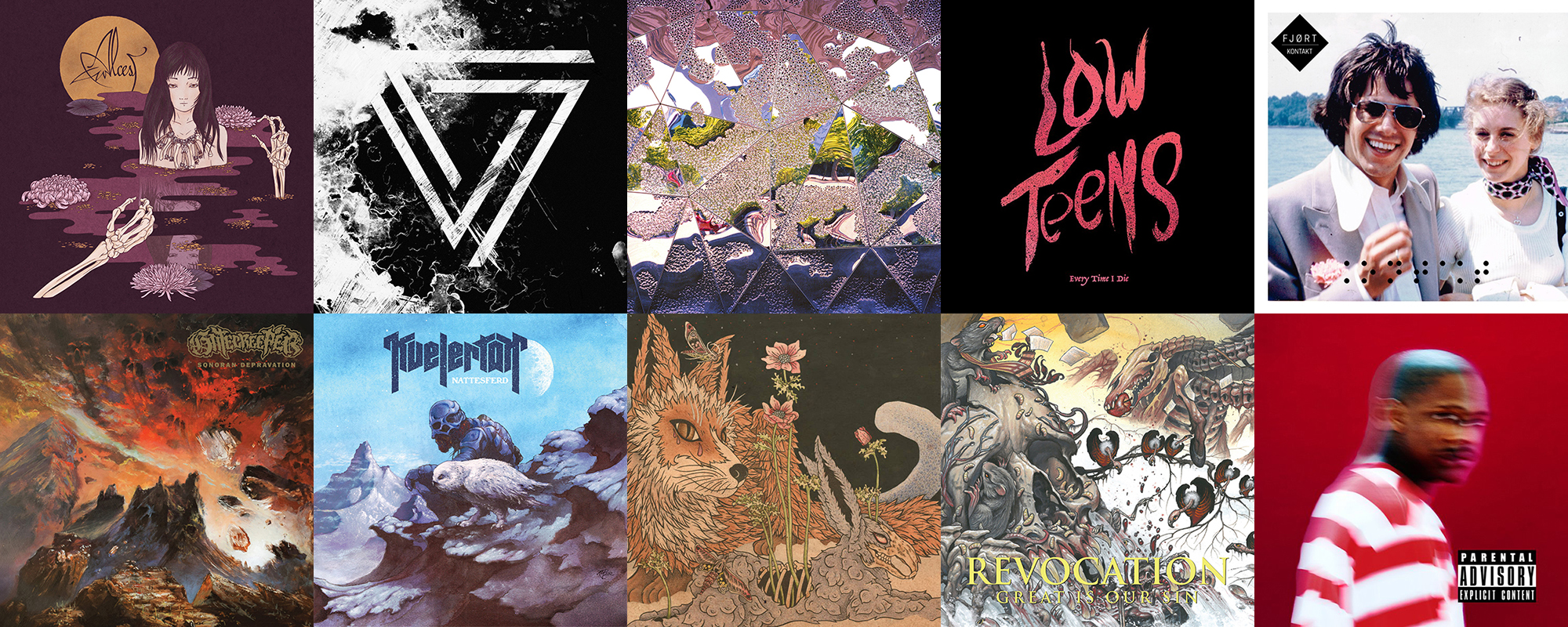 Ah, 2016. Or as it shall henceforth be known: 'The Year of the Clusterfuck'. Zika, Trump, ISIS, the ongoing migrant crisis, rampant global warming – the list goes on. Even the Grim Reaper was rushed off his bones, snatching Bowie, Prince and Lemmy, with ruthless efficiency in the same god-damn year. And as we march irrevocably forward into this new millennium, it's becoming abundantly clear that humanity is steadfast in hurtling itself towards inevitable doom & gloom. But hey. At least we got some shit-hot music out of it. Right? PLEASE. SOMEBODY. FOR THE LOVE OF GOD. THINK OF THE MUSIC.
Here are my picks for the Top 10 International Albums of 2016:
---
Alcest – 'Kodama'
"After completely embracing their shoegaze metamorphosis and emerging as a delicate creature born of wistful melodies on 2014's 'Shelter,' the group's fifth album 'Kodama' finds the duo of Niege & Winterhalter revisiting their dark and murky roots. This grandiose album is a concept record inspired by Princess Mononoke, the popular fantasy anime film directed by animation legend and Studio Ghibli co-founder, Hayao Miyazaki, and 'Kodama' is an exercise in restrained transience; a collection of gorgeous musical arrangements that flirt and foray between darkness and light like a curious moth circling a bright and yet distant flame." Read the full review here.
---
The Black Queen – 'Fever Daydream'
"Layers of dreamy guitars and throbbing synths softly caress Puciato's smooth and commanding vocals, crafting soundscapes that are wholly lush and surprising; at once thoroughly enjoyable and unforgiving… And if Puciato's versatility as a vocalist was ever in dispute (which honestly, it never should be), hits like 'The End Where We Start,' 'Secret Scream' and 'That Death Cannot Touch' find him effortlessly swinging in range between echoes of Trent Reznor, Julian Hamilton and Michael Hutchence respectively. Flawless and addictive, 'Fever Daydream' is a stellar debut." Read the full review here.
---
Dangers – 'The Bend In The Break'
"On 'The Bend In The Break,' their third full-length album, the California group hits a resonant fever-pitch, with their most cathartic, abrasive and engaging collection of songs to date. Ragers like 'The Straight World' and 'Darkest Arts' tackle gender and race issues with equal parts fury and frustration, while 'Kiss With Spit' echoes the risk and vulnerability that makes hardcore so vital and addictive. The record even gets downright progressive at times, with the incredibly melodic 'Loose Cigarettes,' an ode to the helpless victims of police brutality, and closer 'To Finn, With Our Regrets' which tackles some light subject matter: human irresponsibility and the inevitable end of the world as we know it. Beautifully chaotic, darkly introspective and blissfully vitriolic, 'The Bend In The Break' is hardcore with a conscience." Read the full review here.
---
Every Time I Die – 'Low Teens'
"It's vocalist and lyrical wordsmith Keith Buckley who steals the show once again, delivering a tortured, sardonically dark performance with his trademark croon, soaring melodies and razor-edged screams. Themes of love, death and destruction ultimately dominate the conversation, as Buckley's insightful reflections reach a veritable fever pitch on the existential battering-ram 'Petal', and its haunting refrain: "Untimely ripped into this world/I was born again as a girl." Functioning as the sonic hangover for lurid tales of daring, despair and debauchery, 'Low Teens' is yet another masterful effort from ETID and a true contender for AOTY." Read the full review here.
---
Fjørt – 'Kontakt'
"On their second full-length LP, 'Kontakt, the group fuses together the best elements of melodic hardcore with your catch-all, 'post-whatever' styles. Across 11 blistering and engaging tracks, an attentive listener might find shades of post-rock, or noise, or even screamo—but nonetheless, it's a fusion that stands out as potent and thoroughly vital to Fjørt's sound, and something that's sure to resonate with fans of Birds In Row, Pianos Become The Teeth, KEN mode or anything in between… It's a record that stands defiant with a sound that is at once complex, challenging and cathartic, and comes highly recommended for those who can appreciate beauty within brutality." Read the full review here.
---
Gatecreeper – 'Sonoran Depravation'
"Hailing from the mesas and blistering heat of Arizona, this five-piece outfit do old-school, meat-and-potatoes death metal that sounds like it was bootlegged straight from a 90's Florida basement show. And they do it really fucking well too. Fans of anything from Bolt Thrower to Dismember to Entombed will find shit to grin about here, and 'Sonoran Depravation' – the group's Relapse Records debut – is exactly the type of relentless, headbang-inducing record we all wanted. It's 30 minutes of savage vocals, HM-2 riffs, and plenty of hooks, with a level of intensity that feels like a dishevelled longhair grabbed your puny little neck and stamped their fucking boot on it from start to finish. Sometimes, the gutter just tastes so good." Read the full review here.
---
Kvelertak – 'Nattesferd'
"Kvelertak are the true embodiment of a youthful spirit driven by exuberance and escapism. In our interview with vocalist Erlend Hjelvik, we asked what the overall message would be for the band's music, to which we received the following answer: "We're all going to die someday, so we might as well have fun on the way down." And if a listener was to take away anything substantial from the band's third LP, it should definitely be that all-encompassing and liberating sense of party-nihilism. Make no mistake: 'Nattesferd' is the definitive Kvelertak record. So play it loud, get dirty, live a little, and try to have some fun on the way down." Read the full review here.
---
Planes Mistaken For Stars – 'Prey'
"'Prey' is another spectacularly high-calibre addition to the band's already impressive discography, and a true testament to their ability to write original and daring songs, which simultaneously embrace and defy a plethora of genre conventions. To say that this album was highly anticipated is a grand understatement; fans absolutely fucking craved it. To say that this album is a good record is also a form of understatement; 'Prey' is fucking incredible… In short, there simply isn't another band putting out heavy music in 2016, that sounds as fresh, as creative or as distinct as Planes Mistaken For Stars. Do not miss them this time around, or you will deeply regret it. Trust me." Read the full review here.
---
Revocation – 'Great Is Our Sin'
"If you were to construct a Venn diagram for an accurate description of Revocation, you would find the band occupying a space in the exact centre of circles representing 'Precision', 'Efficacy' and 'Talent'. Revocation are the definitive no-frills metal band, capable of appealing to the long-hair diehards, but also the transient, occasional head banger. 'Great Is Our Sin' stands as the band's finest achievement, with great songwriting and plenty of progressive flirtations, with just the right mix of technical proficiency and thrash urgency. If you didn't already have that battle jacket ready for war, now would be a perfect time." Read the full review here.
---
YG – 'Still Brazy'
Shedding DJ Mustard production, in favour of a well-rounded and versatile G-Funk throwback sound, YG's 'Still Brazy' was exactly what the rap world needed: insightful, fun and thoughtful lyricism, self-critical analysis, banger beats and a true sense of style and purpose. Whether it was through a lens of gripping paranoia ('Who Shot Me?'), thug-life sentiment ('Word Is Bond'), or block-party attitude ('Twist My Fingaz'), the Bompton MC brought the heat across 17 huge tracks, with great features from big-time acts like Lil Wayne and Drake. And perhaps most importantly, YG wasn't afraid to get down and dirty either, with the last three tracks out of the chamber ('FDT', 'Blacks & Browns' and 'Police Get Away wit Murder') tackling political upheaval, race relations and police brutality. Damn.